Jurassic World: Dominion Dominates Fandom Wikis - The Loop
Play Sound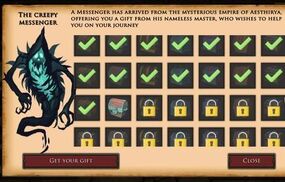 "A messenger has arrived from the Mysterious Empire of Aesthirya, offering you a gift from his Nameless Master, who wishes to help you on your journey."
The Creepy Messenger is basically a daily "welcome" gift. It can be obtained once every 16 hours. It gives various types of chest, which therefore contain various gifts - from Forge Runes to Items, and almost everything inbetween. After some unique gifts in the first "week" (the top row of seven), chests in the same column will reward items similar to those above. For example, while chest 3 uniquely contains a Large Haste Potion (among other things), chest 10 will contain 2 Forge Runes, 2 Tier Upgrade Runes, and 250 gold, as will chests 17, 24, and all others below it in that column.
Collect it as often as you can!
Icon
Number
Contents
Chest 1

Random weapon (epic)
Random torso armor (rare)
Random helmet (uncommon)

Chest 2
Chest 3
Chest 4
Chest 5
Chest 6
Chest 7

Weapon (epic)
Armor (epic)
250 gold

Chests 8/ 15/ 22/ 29/ 36/ 43/ 50/ 57
Random Equipment (epic)
Random Equipment (rare)
Random Equipment (uncommon)

Chest 9 / 16 / 23/ 30/ 37/ 44/ 51/ 58
2 Large Health Potion
2 Medium Health Potion

Chest 10 / 17/ 24/ 31/ 38/ 45/ 52/ 59
2 Forge Runes
2 Tier Upgrade Runes
250 gold

Chest 11 / 18/ 25/ 32/ 39/ 46/ 53/ 60
Random Material x2
Random Material
Random Material

Chest 12 / 19/ 26/ 33/ 40/ 47/ 54/ 61

Chest 13/ 20/ 27/ 34/ 41/ 48/ 55/ 62
Book of Power
Book of Vitality
Book of Spirit
Book of Defense

Chest 14 / 21/ 28/ 35/ 42/ 49/ 56/ 63
Random Equipment (Legendary)
2 Forge Rune
250 gold
Gallery
[
]